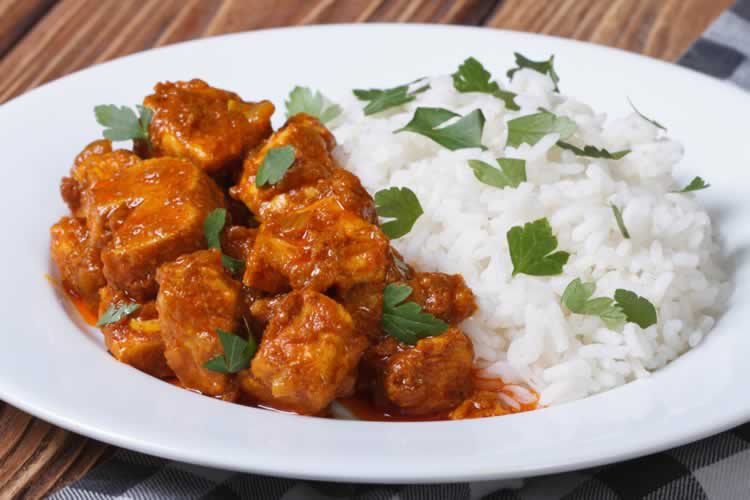 CURRIED CHICKEN
Comments Off

on CURRIED CHICKEN
Ingredients:
2 boneless chicken breasts
2 cloves of garlic
1 piece of ginger 2 cm
1 medium onion
1 big tomato
1/2 cup of coconut milk
1 tablespoon of curry powder
½ tablespoon of cumin
½ tablespoon of turmeric
Cayenne pepper(optiona)
Salt
Pepper
Preparation:
Chop the chicken into medium cubes .
Cut the onion and the garlic in small cubes.
Shred the ginger and grind the tomate.
In a deep pan, add a little bit of vegetable oil and cook the onions, the garlic, the ginger and the tomate.
Add all the spices: the Curry, cumin, turmeric, Cayenne, black pepper and a pinch of salt. Stir well for a couple of minutes and low thr fire by half.
Add the chopped chicken and cook until it has been sealed by all sides.
Add ½ cup of water and stir.
Cook over low heat for 15 minutes, stirring from time to time.
If you see the sauce is very dry, put a little bit of more water, if on the contrary you see it is too liquid, turn up the temperature in order some of the liquid can evaporate.
After 15 minutes check the salt and add more if it's necessary.
Now add ½ cup of coconut milk. Mix well and Cook 5 minutes more.
If you like, you can soften the flavor adding more coconut milk.
Time to turn off the heat and let stand for a couple of minutes.